An over 70-year-old man often cooks in the self-service kitchen on the top floor of Guangzhou Fuda Cancer Hospital affiliated to Jinan University in Haizhu District, and everyone calls him Master Wang. "My wife has breast cancer, and the chest ulcer is very big. The doctors here said that drinking fish soup during treatment can help her wound heal easily." Suddenly, the aroma of fish soup has overflowed.

Married for 30 years, even cancer cannot do them apart
Mr. Wang's wife, Mrs. Guo, stays in an independent ward on the 7th floor with only two beds in it, Mr. Wang sleeping on the left while Mrs. Guo on the right. "No matter which hospital we go to, I will stand by her side," said Mr. Wang. Since 2010, Mrs. Guo had been diagnosed with breast cancer and she received treatments in several hospitals in Guangzhou. However, the road to seeking medical treatment is far less smooth than expected, and the treatment effect is not good. On May 4th this year, Mrs. Guo was admitted to Fuda Cancer Hospital (Fuda) in Haizhu District, Guangzhou. Because the cancerous ulcer was very deep and smelly, other patients tried not to get close, but Mr. Wang still stayed by her side all the time. At that time, despite the smelly wound, doctors and nurses took good care of Mrs. Guo and changed the dressing for her in time and transferred them to the independent ward.

"I felt helpless when I was first diagnosed with breast cancer." Although she was seriously ill, Mrs. Guo remained optimistic and cheerful every day. "Later, I changed my mind. Every morning when I wake up, I'm happy that I've earned another new day for my life!" It was her optimistic thoughts that kept her husband believing in a promising future. Accompanied with each other for 30 years, Mr. Wang won't leave her no matter what.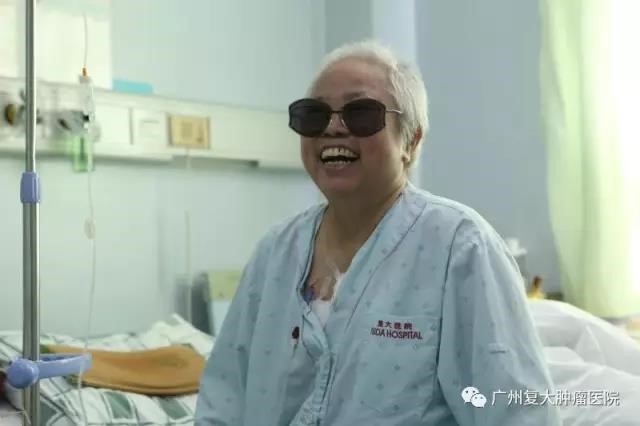 After the surgery, Mrs. Guo smiles happily more than ever.
As Mr. Wang said, "The patient's mood is very important." Before the surgery, Mrs. Guo always kept clear-minded with imperceptible signs of serious illness. After the surgery, she recovered quickly and later she was strong enough to receive ozone therapy without anyone's company. "I hope I can walk on a park after I leave here." When Prof. Xu Kecheng, Chief President of Fuda came to visit her, she was so excited that she couldn't say a word. "It was Fuda that saved my wife," Mr. Wang gave his most sincere gratitude to Fuda.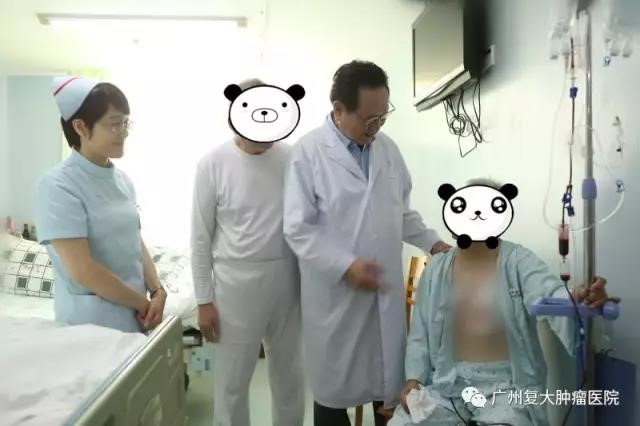 Prof. Xu Kecheng is examining the wound for Mrs. Guo.
Speaking of this surgery, Prof. Xu Kecheng summed it up in sixteen words. He said that during the pre-treatment and surgery, the medical team led by Dr. Mu Feng, Vice President of Fuda showed great professionalism. "The patient has a wide range of ulcer, which leads to certain surgical risks but Dr. Mu Feng has the courage to take it and uses advanced technique to perform pre-treatment for the patient. This is 'braveness takes the lead; innovation ranks the first'; at the same time, all the medical staff take the patient's mood and health as the first priority, and successfully completed the treatment. This is 'goodness is the basis; implementation is the key'."
The author has learned from Dr. Mu Feng that Mrs. Guo "got serious problem in local areas". Because the ulcer surface was large and purulent, and sternum and rib had been rotted, her pericardium could be seen from the outside, which seriously jeopardized her lungs and heart. Therefore, it was imperative to perform a resection of chronic cancerous ulcer in chest wall.
At first, it was necessary to improve Mrs. Guo's condition before surgery. Then, she was given ozone therapy, thermal therapy and chemotherapy. During this period, the wound dressing should be carefully applied and fixed. After the wound was small enough, the medical team arranged a surgery for her.
During surgery, wound surface area measured 13cm*9cm, and the wound area closest to the heart measured 10cm*6cm. After confirming the normal circulation of latissimus dorsi, latissimus dorsi muscle flap measuring 13cm*9cm of the vessel wall was taken to repair the wound on the chest, and the skin measuring 10cm*6cm from the left leg was taken to repair the back wound, which lasted 6 hours. Dr. Mu Feng, chief surgeon said, "This is a combination of tumor surgery, general surgery and plastic surgery, which has high technical requirements, so many hospitals refuse this kind of case for various reasons. However, Fuda has completed seven to eight similar cases and we will pass our techniques on and serve more and more patients."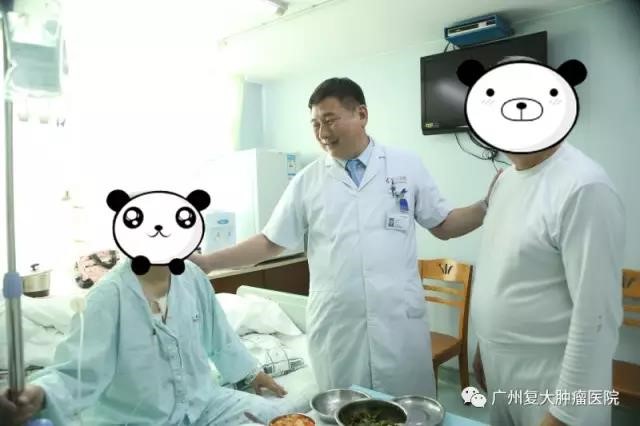 At lunch time, Dr. Mu Feng kindly reminds Mrs. Guo of postoperative notes.

"The surgery has greatly improved her quality of life so she is able to bathe normally. The wound is no longer smelly now." The success of the surgery not only lies in keeping her alive, but also in enabling her to live in a more exciting and dignified way.