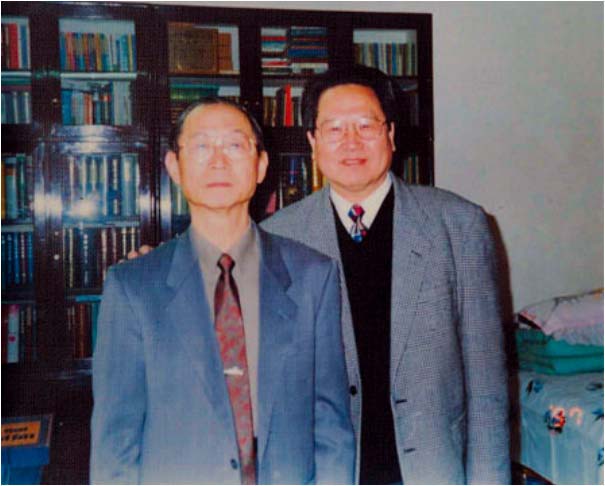 Previous Health Minister Chen Minzhang (left) and Prof. Xu Kecheng (right)
  In 1998, Professor Kecheng Xu visited the then Health Minister, Dr Minzhang Chen. The Minister said to Professor Xu, "Cancer has become a trans-century stumper…I hope that you can establish a medical institution which can meet the people's wishes in South China. To be a good person and work hard."
  Chronology of events
  In November 2001, with Health Minister Chen's instructions, the Guangzhou CRA Technology Company Ltd was founded, and the High Tech Cancer Treatment;
Centre was also set up in collaboration with Guang-zhou Maritime Hospital;
  August 2003, Guangzhou Fuda Cancer Hospital was established with a capacity of 100 beds;
  June 2004, Guangzhou Lung Cancer Institute was formed;
  August 2008, Fuda Hospital was set up with a capacity of 99 beds;
  June 2010, Guangzhou Fuda Medical Investment Management Limited Liability Company was formed; 
February 2012, Fuda Cancer Hospital (North campus) were open with 400 beds, among which 250 were newly added ones;
  June 2012, Fuda Cancer Hospital was brought under Guangdong Provincial Government's management, directly affiliated to Health Authority of Guangdong
Province;
  March 2014,Fuda become the first Private Specialty Hospital Accredited by the Joint Commission International in Guangzhou;
  March 2017,Fuda has passed the second survey of JCI accreditation with a high score 9.91;
  February 2018,Fuda introduce capital--Zhongmin Jiaye;
  May 2018,Fuda become National Key Clinical Speciality (Oncology) in China.