Photodynamic Therapy (PDT) is a non-thermal light chemical reaction and requires oxygen, photosensitive substance (photo-sensitizer) and laser simultaneously. The photo-sensitizer is absorbed by tumor tissue and accumulates in the cells for a long time while the least of it is absorbed by normal tissue. The photo-sensitizer is activated with the appropriate wavelength of light and reacts with oxygen to generate radical oxygen species (ROS) which attack the cell structure through oxidative action. Such damage may be oxidative damage to the cell membrane or protein. When the accumulation of oxidative damage exceeds a certain threshold, the target cell death begins.
Three factors of PDT
1. Photo-sensitizer: The characteristics of photodynamic activity, light absorption and targeting determine its clinical availability and scope of application.
2. Laser: Wavelength accuracy, output stability and projection reliability are also important controllable factors that determine the therapeutic effect.
3. Oxygen
Mechanism and clinical features
n With the clinically recommended dose, the photo-sensitizer is not cytotoxic in itself, and only photo-activation with oxygen can induce cytotoxicity.
n The photo-sensitizer absorbed by the tissue is stimulated by laser irradiation of a specific wavelength, and the photo-sensitizer in the excited state transmits energy to the surrounding oxygen, producing highly active singlet oxygen.
n The oxidation reaction between singlet oxygen and adjacent biological macromolecules causes irreversible damage to cell membrane, mitochondria, lysosomes and other subcellular structures, and finally leads to cell death.
n After photo-sensitizer injection into the human body, it can form a relatively high accumulation in the tumor tissue, especially high on the angiogenesis of tumor endothelium, so the photodynamic effects cause vascular injury with local ischemia hypoxia, playing a key role in clinical treatment, and ensuring the selectivity of PDT.
The selective accumulation of photo-sensitizer in the tumor tissue and our selective targeting of light to the lesion tissue constitute the bilateral selectivity of PDT in the treatment of tumors (drug selective enrichment and selective light activation).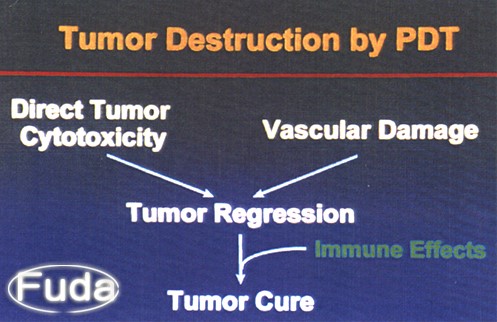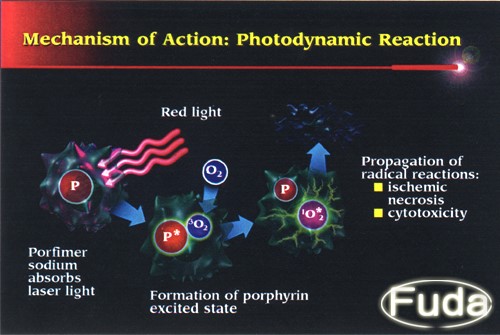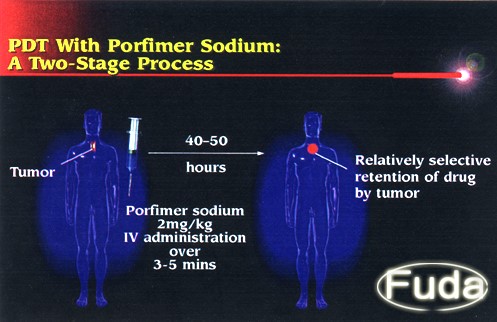 How PDT works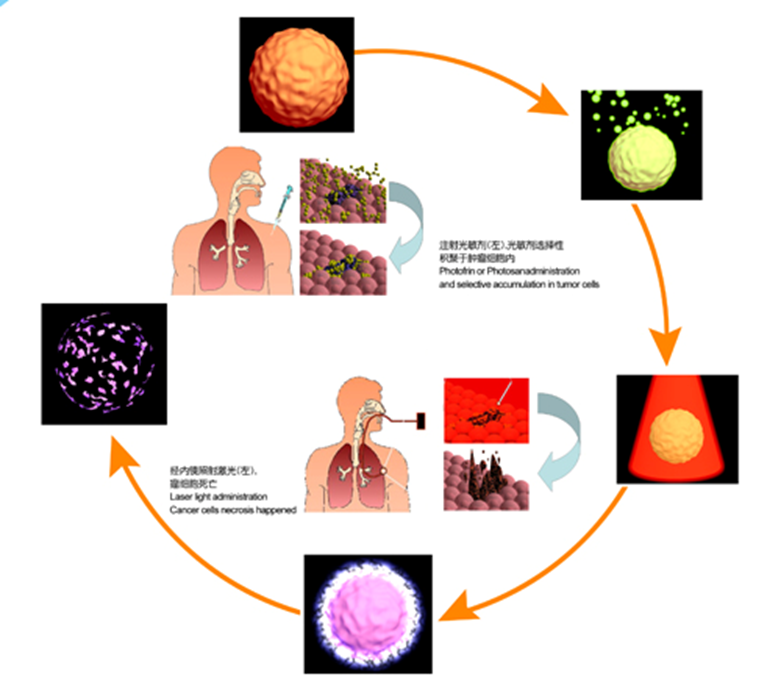 PROCEDURE

• Photosensitizer, 2mg/kg, is administrated intravenously 48 hours before scheduled light activation.
• Laser light irritation: 48 hours after photosensitizer administration, 630-nm red laser light is delivered through optic cables (thin fibers that transmit light) to deliver light to areas inside the body. The light used for PDT can come from a laser or other sources of light. The total light dose administered ranges from 20 to 30 J/cm2. The light irritation is often repeated 72 hours after photo-sensitizer administration.
• The delivery of laser fiber may be through endoscopes, such as gastrointestinal endoscope (for esophageal or gastric cancer) or bronchendoscope (for lung cancer), or it may be delivered intraoperatively.
• PDT may also be repeated and may be used with other therapies, such as surgery, radiation, or chemotherapy.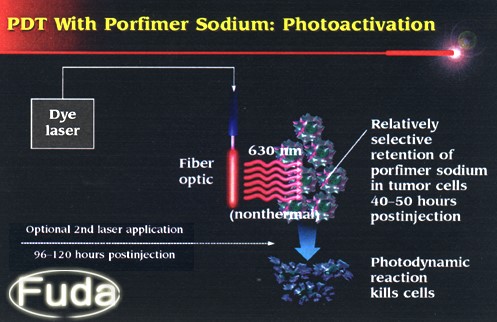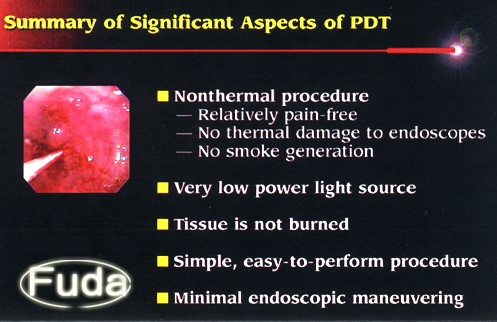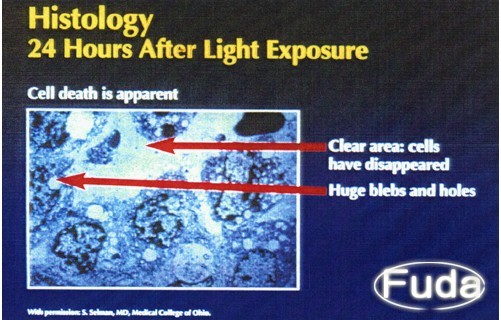 Advantages
1. Relatively selective and specific for tumor cells
2. Effective in treating many solid tumors.
3. The cure rate is high as 90% for some early cancer (esophageal and lung cancer). For advanced cancer, more than 70% of patients experience improvement.
4. Safe; low toxicity; no bone marrow suppression
5. No negative effect when combined with other therapies (chemo/radiotherapies); instead, they have a complementary effect.
6. Short treatment time
7. Efficacy occurs within 48-72 hours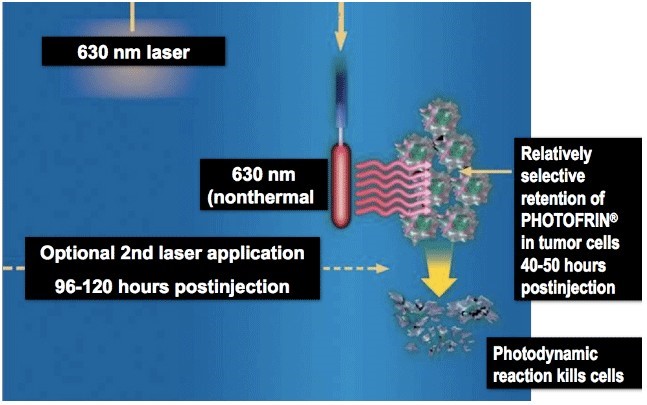 Clinical use
1.Oral- pharyngeal tumor
Early oral, nasal and nasopharyngeal cancer: PDT has effective rates of 75%-100%.
2.Esophageal cancer
• PDT has radical effect for early esophageal cancer
• PDT can effectively ameliorate obstruction of advanced esophageal carcinoma
• Very effective for cervical esophageal cancer
• Able to treat submucosal disseminated esophageal cancer
• For cancer which grows into cavity and stent has been placed into esophagus, PDT can eradicate intracavity neoplasm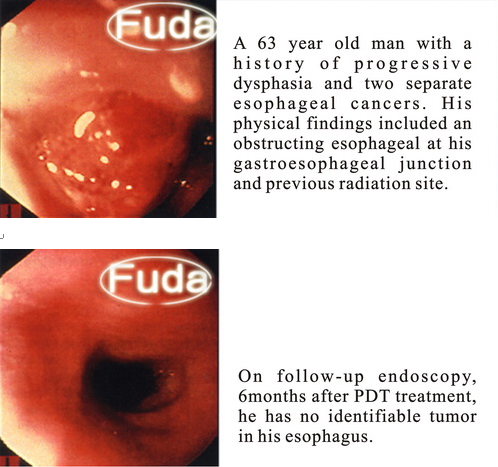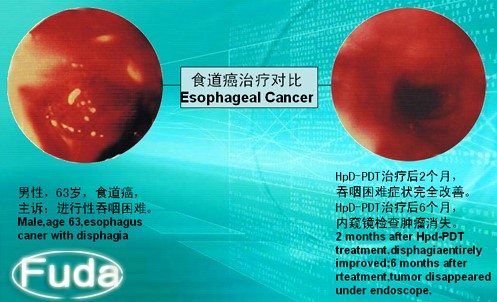 3.Barrett esophagus
PDT can effectively eradicate Barrett epithelium and prevent early adenocarcinoma.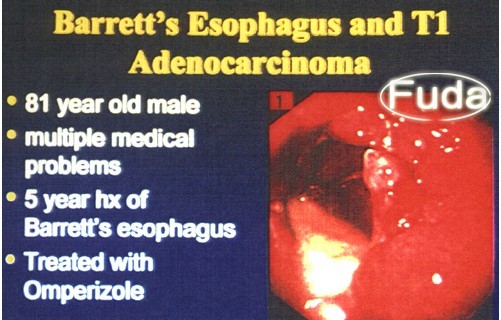 4.Lung cancer
For early bronchial cancer, PDT has a cure rate of 90%; for obstructive cancer, the improvement rate is 85%.
5.Gastric cancer
• PDT can eradicate cancer for up to 85% of early gastric cancer
• PDT can improve symptoms of advanced gastric cancer
6.Bladder cancer
Cancer in situ can be eradicated by PDT.
71% of advanced cancer cases experience improvement after PDT.
Other cancers for which PDT is effective:
Colon-rectal carcinoma, cholangiocarcinoma, bile duct cancer in hepatic hilum, pancreatic carcinoma and cancer of ampulla, tumor in abdominal cavity, pleural and peritoneal mesothelioma, liver cancer, brain tumor tumors and cancer in genitourinary tract.
Side effects
n On the whole, compared with traditional therapies (surgery, chemotherapy and radiotherapy), PDT causes less trauma and toxic reactions to normal tissues and organs.
n PDT has no serious toxic effect on heart, liver, kidney or nerve.
n After PDT, it is necessary to keep away from light for several weeks. During this period, bright light or sunlight exposure can cause photosensitization (redness, swelling, pain and other inflammatory reactions) of the skin, and corticosteroids can be used to control the inflammatory reaction caused by PDT.
Guideline for light avoidance
Day 1
After PDT, the skin and eyes are sensitive to strong light, please avoid all possible direct exposure to sunlight and do as follows:
A. Stay in the room with dark curtains to avoid direct sunlight;
B. Use a light bulb of 60 watts (or 11 watts for energy saving) or less;
C. Patients can watch TV at a safe distance of at least 2 meters and wear sunglasses;
D. Patients should not use computers.
Day 2-7
The eyes are still sensitive to stronger light and the skin is still sensitive to light. Please wear sunglasses and pay attention to the following matters:
A. Gradually increase the indoor lighting which can be restored to normal standard in this week;
B. Stay indoors during the day, avoid sitting near the window, and go outside after dark;
C. Continue to avoid direct exposure to the sun. If patients have to go out, cover the whole body with dark, tightly woven fabrics or umbrellas and wear sunglasses.
D. If the patient accidentally exposes his/her skin to the sun and may experience tingling or burning, he/she should stay away from the light area and seek medical attention immediately.
Day 8-14
After Day 8, the skin is still sensitive to light, so patients still need to avoid direct sunlight and strong indoor lighting. Go outside for a short period of time (10-15 minutes), but continue to wear long sleeves that block out the sun and move in the shade. If the skin does not have any redness, heat or blistering, the time spent outdoors can be gradually increased. Make sure not to overexpose your skin of hands and face, and consult your doctor if there is any redness, burning sensation, or blistering of your skin. No more outdoor activity/skin exposure is noted until these symptoms are gone.
Day 15 or above
The patient's sensitivity to light gradually returns to the normal state, and the patient can slowly accept the direct irradiation of bright light or sunlight, and gradually returns to the former state.
Patients can lay their hands under direct sunlight for 5 minutes and then observe whether there is any photosensitive reaction within 24 hours. If not, patients can gradually increase the frequency and length of time. If there is no obvious photosensitive reaction, patient can try to extend the exposure time in direct sunlight for 15 minutes. If there is no discomfort, gradually increase 15 minutes every day after that.
Sunscreen does not provide patients with light sensitivity protection. Avoid sunbathing or using sunlamps or tanning beds within at least 3 months, and avoid eye examination with bright light within at least 30 days.