In May 2016, Mr. Cao and his wife were waiting for an interview at Fuda Cancer Hospital (Fuda). Mr. Cao came from Jiangsu province and he told us,"Today I would like to thank Fuda for its excellent treatment team and professional medical skills." Previously, he sought medical help in Hong Kong and America, and finally chose treatment in Guangzhou Fuda Cancer Hospital.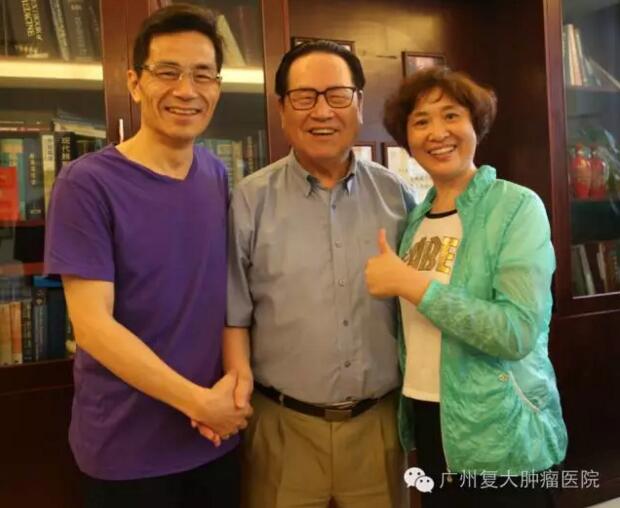 Mr. Cao and his wife are taking photo with Xu Kecheng (middle).
  In March 2014, Mr. Cao happened to find a tumor in his adrenal gland during a check-up and later he underwent a surgery to remove the tumor. He was told to receive a regular check-up after the surgery. In July 2015, he went through a check-up and the result was not satisfactory. He still couldn't believe he had cancer until the result hit him.
  Then Mr. Cao and his wife began a long-lasting and struggling medical journey. He went to Shanghai for treatment but hospitals there didn't have any available treatment for him, which upset them. Later they went to a Hong Kong hospital where Mr. Cao underwent conservative treatment and the tumor was under control temporarily. Then he was referred to an American hospital because there might be better treatment.
  Without hesitation, he went to America for treatment with his wife. Three months later, his tumor was basically under control.
  However, back at home, his tumor was growing again. His family suggested him receive treatment in America again because they thought the treatment and service there were the best, but Mr. Cao had a different idea. During his stay in America, a doctor introduced his tutor, Prof. Xu Kecheng from Fuda Cancer hospital to him.
  After full understanding of Fuda, Mr. Cao came to Fuda. At the first sight, he was attracted by Prof. Xu who explained the details of treatment in a professional way. He thought Fuda and its doctors were what he wanted. He had faith in them and believed he could defeat cancer one day.
  After treatment for over one month in Fuda, Mr. Cao was getting better and better. He said, "I have a deeper understanding of this hospital." He concluded the following four features of Fuda:
  1. There is a team of experts such as Xu Kecheng, Niu Lizhi and Chen Jibing. They has equipped with advanced treatment concept and professionalism. That's what makes Fuda an academic hospital which brings professional medical service to patients.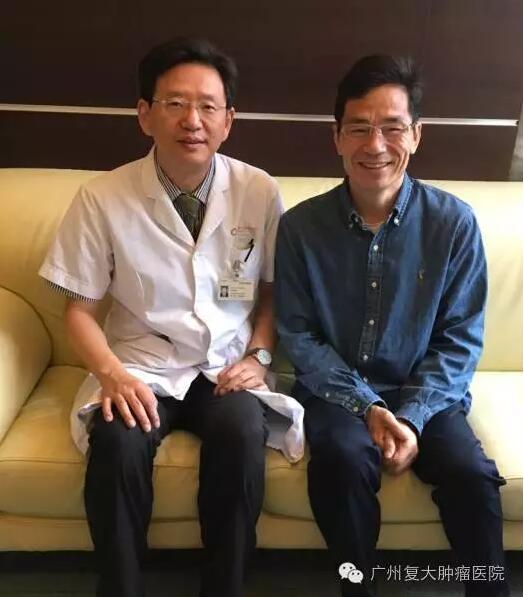 Mr. Cao (left) and Niu Lizhi (president of Fuda)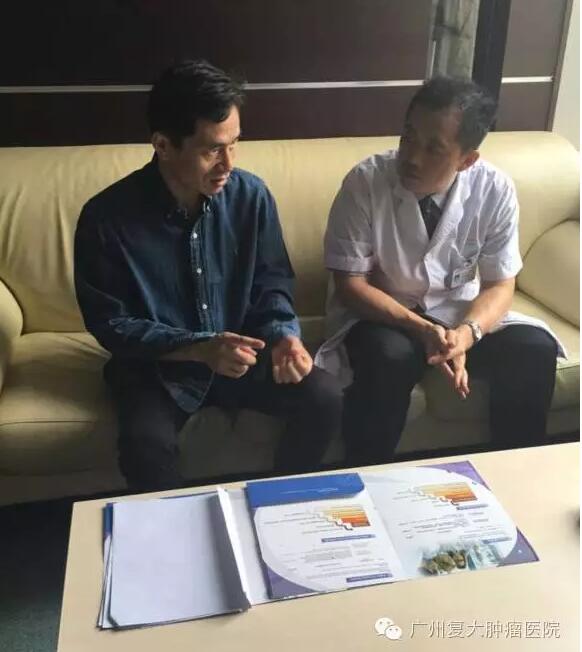 Chen Jibing (vice president of Fuda) is explaining every detail of treatment for Mr. Cao.
  2. There is strong connection between every department. In Fuda, MDT experts will have a consultation meeting for patients and make the most suitable treatment plan according to patient's condition, which creates greater hope of recovery.
  3. There is a professional nursing team. Since the first day of admission, nurses here care about and show respects for each patient with their beautiful smiles. For example, they called patients here "Uncle" or "Auntie" instead of "patient", bridging the gap with the patients.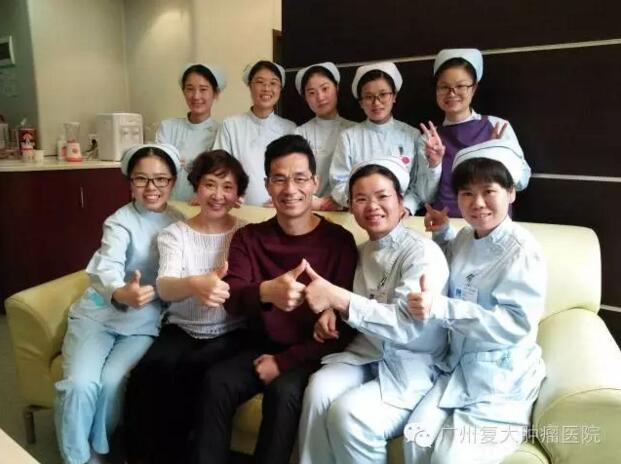 Mr. Cao and his wife are giving a thumbs-up for the nursing team.
  4. Say no to patient's red packets. Doctors here never accept any money-involved gifts from patients. Their noble spirits and professional skills have won trust and respect from patients and avoided conflicts between doctors and patients.
  In the afternoon of May 23, Mr. Cao said happily, "Treatment here has been completed and I feel good now. Tomorrow morning, we will leave here. MRI scan shows that most of the tumor has been inactivated. Doctors here kindly remind me to come back for regular check-up."
  In the following rehabilitation process, Mr. Cao will set up a life-time belief to bravely fight against cancer. He said, "From now on, I not only need to change my working style, but also adjust my lifestyle. Do more exercise, relax properly and think positively. I believe I can live with cancer harmoniously!"
  Looking back, Mr. Cao added, "Along the anti-cancer road, I experienced sadness, tearfulness and thankfulness!"
  "Thank those who help me a lot in the hospitals of Shanghai, Hong Kong and America. Especially thank Prof. Xu Kecheng, Niu Lizhi, Chen Jibing and other medical staff in Fuda. Without them, I can't recover so well!" Mr. Cao also would like to thank everyone who cares about him, especially his family who always support him whatever happens.
  In front of camera, he sincerely said, "Love you all!"