Microwave, the general term of decimeter wave, centimeter wave and millimeter wave, has penetrating power.

Theoretical basis of killing cancer cells by microwave hyperthermia:

Cancer cells are less tolerant of temperature than normal cells. Warming up can induce tumor cell death while normal cells can still survive;

Mechanism of killing cancer cells by microwave hyperthermia:

a. Cancer cells are rich in water, when microwave radiation penetrates through tissue and reaches the lesion, it will be absorbed by cancer cells, which will lead to intracellular water molecules movement, and then heat is produced. When the lesion temperature reached 41 ℃ ~ 43 ℃, it can inhibit the synthesis of ribonucleic acid and DNA, which will lead to apoptosis. At the same time the lesion temperature staying at 40 ℃ could last for a period of time, which can inhibit the growth of small intratumor blood vessel, decrease the PH value of tumor cell and damage cancer cell structure, thereby leading to cancer cell death. When the tumor temperature staying at 43 ℃ for 30 minutes, most cancer cells can be inhibited to some degree;

b. Due to glomus tumor, formed by rich and irregularly vagal tumor blood vessels tumor blood vessels, the temperature of intratumor lesion is significantly higher than that of normal tissue when heated;

c. Microwave hyperthermia treatment could stimulate immune system.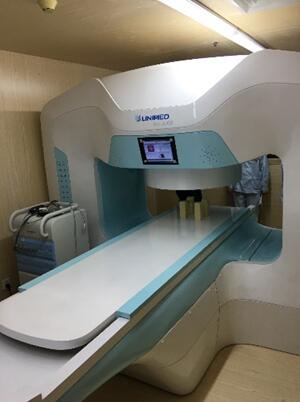 The third-generation high-power microwave hyperthermia treatment apparatus: 8 radiation sources; radiator and heat homogenizer; adjustable heating range; radiation sources are distributed on ventral side and dorsal side, which won't cause thermal burns.



Indications

Recurrence after initial treatment of malignant tumor

Malignant tumors that have transferred or potentially transfers to other parts

Adjuvant treatment before and after surgery

Combined treatment with radiotherapy and chemotherapy

Malignant cancer patients who cannot tolerate surgery or radiotherapy

Resistant to chemotherapy or multidrug resistant

Cancerous pleural effusion and ascites

Palliative treatment of advanced malignant tumors

Analgesic treatment of cancer pain

Contraindications

Primary or metastatic intracranial tumors, cerebral vascular disease or brain edema, intracranial hypertension, consciousness disorder

Severe organic heart disease or arrhythmia, cardiac reserve function decreased significantly with heart pacemaker, uncontrolled high blood pressure

Severe respiratory dysfunction (pulmonary ventilation function is lower than 60% of normal one).

Liver and kidney dysfunction

Coagulopathy patients, uncorrected severe anemia Hb <60g / l
Severe bone marrow suppression, WBC <2.0 × 10 9 / L

Tuberculosis at open phase, tendency to serious infection, fever (body temperature that is higher than 38 ℃)

Patients who have surgical incision or partially healed epidermal wounds
Systemic failure and KPS < 60

Patients who have poor heat sensitivity

People who have foreign metal items in the body (intratumor titanium alloy iodine particles is excluded)

Women who have intrauterine ring, pregnant women and lactating women