Today, many cancer patients in China go overseas to seek medical treatment in order to get access to latest anti-tumor drugs. However, many foreign patients from different countries chose to receive treatments in Guangzhou Fuda Cancer Hospital (Fuda). And Istvan from Hungary is one of them.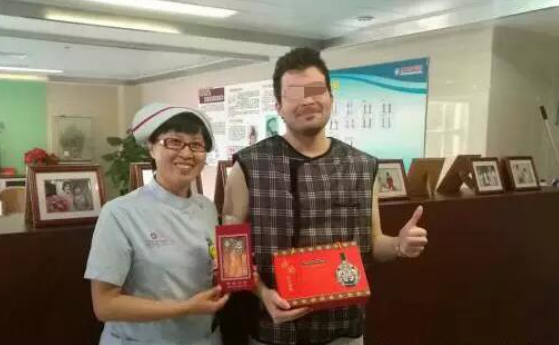 Istvan received a gift from our head nurse and raised his thumb.
He flew to Guangzhou for anti-cancer treatments three times in 3 months
Hungary is a country in Central Europe and lies within Danube's drainage basin, which is over 7,000km away from China, and it takes almost 10 hours flying from Hungary to China. Since April 2016, Istvan had flown to Guangzhou, China three times for anti-cancer treatments.
Istvan, 32 years old, is an engineer who has a happy family. Four years ago, he developed a paroxysmal pain in right upper abdomen almost once to twice a week. Later, his right shoulder and back also ached. In early 2015, he went to a local hospital for basic check-ups and then he was diagnosed with intrahepatic cholangiocarcinoma.
Hearing this, he was shocked and heartbroken.
A month later, he underwent two cycles of chemo at the local hospital, after which he showed nausea, vomiting and septicemia. He suffered a lot from these side effects so the doctor there advised him to stop the chemo.
In March 2016, Istvan developed right upper abdominal pain again and then he received a physical examination which showed that the liver tumor grew bigger than before. He was upset but he had to find out an appropriate treatment for himself as soon as possible.
Soon, he learned from a local doctor, Alina that there were many special cancer treatments in Guangzhou Fuda Cancer Hospital (Fuda) in China, so after comparing Fuda with other cancer hospitals, he flew to Guangzhou for the first time in April and was admitted to Fuda.
According to Dr. Qian Wei, Fuda had attached great importance to Istvan's case. The medical team, led by Dr. Niu Lizhi, made a comprehensive treatment plan based on his condition. After cryosurgical ablation, brachytherapy and other treatments, Istavn's cancer was under control.


Fuda provided heart-felt service and moved him
Since Istvan can't speak English, so we invited a translator from a Fuda volunteer team to take care of him. "Here many doctors have studied abroad and speak English well, but not me so I got communication problem at first. Thankfully, later Fuda invited an interpreter for me, who speaks Hungarian very well," Istvan said.
His physical and mental state had been greatly improved under the careful treatment and care in Fuda. During treatments, a Hungarian TV station also came to Guangzhou to interview him.
Isvan told the author that in recent years, the incidence of cancer in Hungary was getting higher and higher, but the survival rate and recovery rate of cancer patients were lower than the EU average. Therefore, the relevant Hungarian authorities have invested lots of money in the prevention and treatment of cancer, and have also established the Cancer Foundation to raise funds for local cancer patients.
"After cryosurgery in Fuda, my mental state and appetite are good. I believe I can go home soon." This is taken from a video recorded by Istavn on July 26, which aimed to share his treatment experience in Fuda with his relatives and other cancer patients in Hungary. He also invited Dr. Mu Feng, Vice President of Fuda to be his video guest.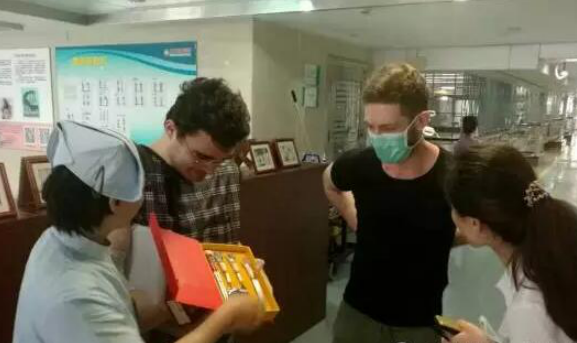 In order to express his gratitude to our hospital staff, Istvan gave chocolate to doctors and nurses as a gift. However, Fuda has strict regulations that staffs here cannot receive money or gifts from patients so nurses shared the chocolate to other inpatients. In return, nurses gave Istvan a set of exquisite Chinese tableware as a present. He said happily, "The tableware is so beautiful and I'll keep it as a collection rather than use it."
Heart-felt service here in Fuda moved Istvan a lot.