In the season of first snow in 2018, Mr. Chen from Malaysia, wearing a thin shirt, was laughing and chatting with the medical staff at Fuda Cancer Hospital affiliated with Jinan University (Fuda). According to his robust physique and hearty laughter, we couldn't notice that he was a patient with stage IV rectal cancer.
No Discomfort shown but He Was a Patient with Stage IV Rectal Cancer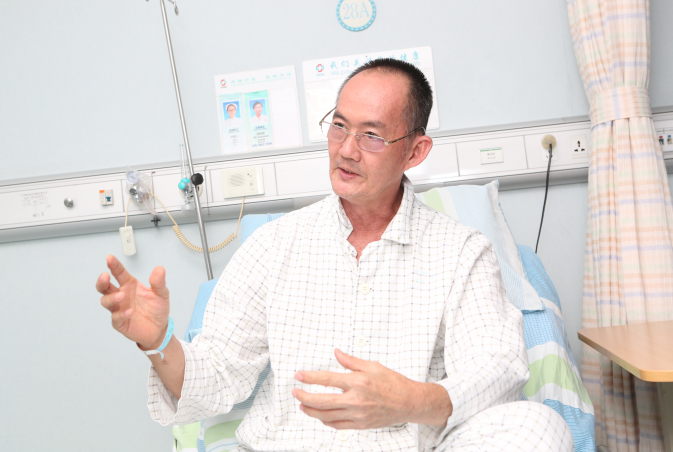 In March 2018, Mr. Chen had bloody stool without any discomfort. With frequent defecation and more serious bleeding, he was admitted to a local hospital in Malaysia. After examination, he was diagnosed with rectal cancer. Knowing this result, he thought of his father and mother who died of gastric cancer and intestinal cancer respectively so he decided to have a further examination. The PET/CT scan indicated stage IV moderately differentiated rectal adenocarcinoma TxNxM1 and secondary malignant liver tumor. His family could not believe that he would suffer from cancer without any sign of discomfort and all burst into tears. As an optimistic Buddhist, the first idea occurred to him was to pass away with dignity rather than die painfully with side effects of chemotherapy as his parents did. "I can't forget how my parents suffered from systemic chemotherapy, so I won't accept side effects of chemotherapy. My children contacted a hospital in Singapore immediately and advised me to go there for treatment. I also called the doctors there and learned thattreatments there were similar to those my parents had received so I was hesitant," said Mr. Chen. When he found himself in the mire, his daughter who works in a newspaper office brought him good news.
Mr. Chen's daughter told him that doctors from Fuda recently held a lecture in Malaysia. At first, he thought it was pure Chinese medicine treatment at Fuda, and Guangzhou was too far away for him, so he refused his daughter's request at that time. However, his daughter repeatedly begged him to attend the lecture and told him that the oncology department of Fuda was famous all over the world. Hearing this, Mr. Chen attended the lecture with his family.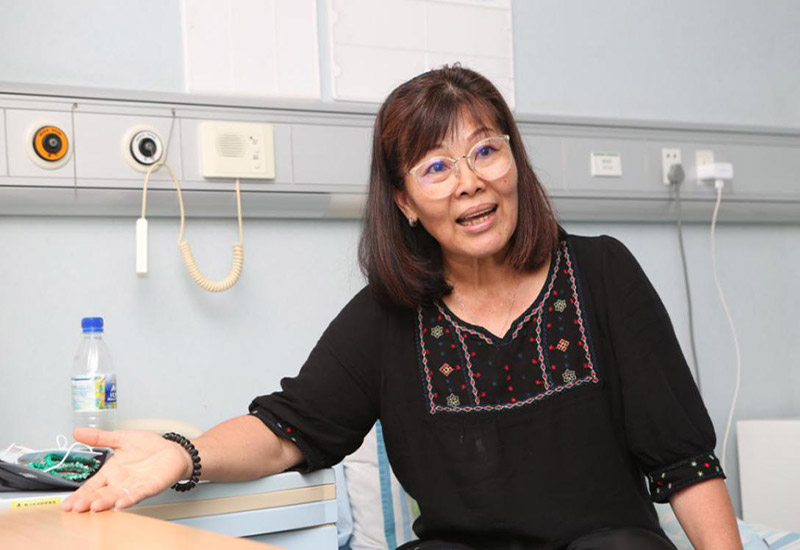 After listening to the lecture, Mr. Chen learned that Fuda the main cancer treatment in is western medicine interventional therapy. Compared with the systemic chemotherapy in Malaysia, interventional therapy produces fewer side effects and less pain in a more accurate way. In recent years, more than 100 cases of liver metastases caused by colorectal cancer have been treated by interventional therapy with drug microsphere. The drug microspheres will change their shapes according to the shapes of blood vessels. After injecting them into blood vessels, they will gradually go deep into the distal ends of the tumor vessels, firmly tie the tumor's tiny blood vessels, cut off the supply of oxygen and nutrients, and cause the tumor to become necrotic. And a high local concentration will be formed, and continuously kill cancer cells. Because chemo drugs are mainly concentrated in the tumor and very few in the whole body, so it will not cause systemic poisonous side effects, which will greatly reduce patients' discomfort and benefit many patients with solid tumor. Eventually, Mr. Chen realized this was what he had been looking for.
Singing Dispelled His tension and He Actively Cooperated with Doctors
When Mr. Chen started his first cycle of treatment, he was very nervous. He was even afraid of drawing blood and needles. To help alleviate his nervousness, nurses gently comforted him and kept talking to him. "Will you sing a song for me?" asked Mr. Chen. Then nurses smiled and began to sing. After hearing the singing, Mr. Chen was finally relaxed and actively cooperated with doctors during the first interventional treatment.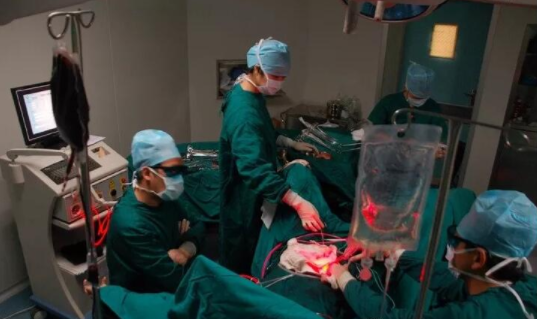 Treatment Was Difficult but Cancer Cell Index Dropped Gradually after Each Treatment
Before treatment, Mr. Chen had a cauliflower-like mass 10cm deep in his anus. Its surface oozed blood and the cancer had metastasized to his liver, which was stage IV moderately differentiated rectal adenocarcinoma TxNxM1 and secondary malignant liver tumor. It was a difficult case.
The doctor of interventional treatment team said, "According to conventional treatment, Mr. Chen's rectal cancerous tissues need to be removed and his rectum should be diverted with a stoma, which will cause trauma and inconvenience to him compared to interventional chemotherapy." After observing Mr. Chen's situation, a penal of interventional treatment experts studied carefully, and arranged several interventional chemotherapies for him. In Fuda, from March to December 2018, Mr. Chen had 8 cycles of treatment among which previous 7 cycles were mainly interventional chemotherapies, and on November 28th and 29th, he had photodynamic therapy for rectal cancer, which went smoothly. After that, he continued interventional chemotherapy to consolidate curative effect. With the help of photodynamic therapy and interventional chemotherapy, Mr. Chen was in a stable condition. "After the first interventional chemotherapy, I felt that my stool had been obviously improved, and after the second one, I didn't see blood in stool," said Mr. Chen. To the delight of both Mr. and Mrs. Chen, the cancer cell index of ca-2009 before treatment was reduced to ca-180 after 8 cycles of chemotherapy. The focal range of rectal cancer was significantly shrunk. After the 8th cycle of interventional chemotherapy in early December, Mr. Chen was discharged happily.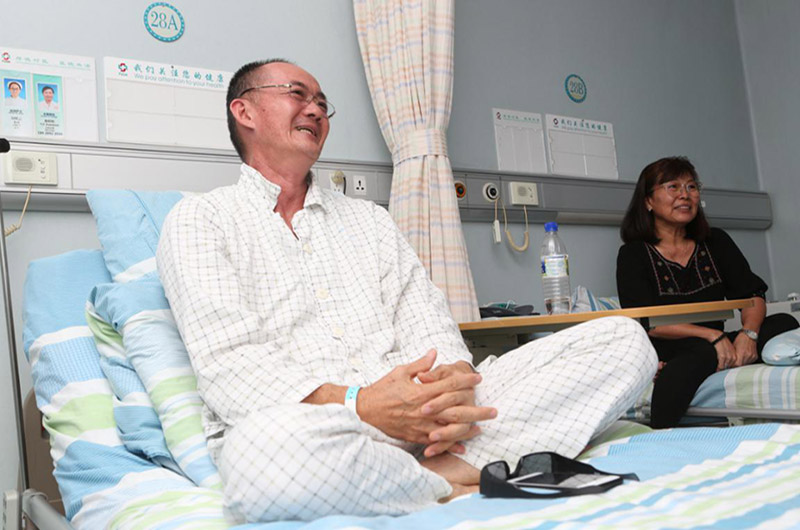 Precise Cancer Control by Photodynamic Therapy and Interventional Chemotherapy
Photodynamic therapy is one of the commonly used methods to treat cancer. It has the advantages of low toxicity, minimal trauma and quick recovery and it can keep human tissue intact to a large extent without causing immunosuppression and myelosuppression. It can be effective within 2-3 days and does not affect other treatments. Combined with surgery, radiotherapy and chemotherapy, curative effect can be consolidated and cancer can be precisely treated. Dr. Shi, attending physician, said, "In Mr. Chen's case, treatment effect is quite satisfactory. He has great trust in us and cooperates well with us. Now that the tumor is under control, we are so happy. Patients' trust and affirmation is the driving force for us to move forward. "
After every cycle of treatment, his friends said to him, "You look good. No hair loss. You don't even look like a cancer patient because you look quite healthy." Hearing this, Mr. Chen replied, "I owe everything to Fuda's doctors because they care me a lot. I hope more cancer patients can know that cancer treatment in Fuda is not that painful. Every staff here is very considerate, so no need to worry when you're here. I feel reassured during my stay in Fuda. "
He added that every time when he was discharged, Fuda interpreters would be their tour guides in Guangzhou where they could enjoy delicious food and wonderful view.