Ms Divniahnina, 42 years old from West Kalimantan, Indonesia, suffered from breast cancer two years ago but she didn't mention her disease to anyone and just had some herbal medicine. Helplessly, she shed tears privately every day. Later, her elder sister noticed her changes and took her to a local hospital for surgical resection and chemotherapy. After half a year, the breast mass recurred and grew up day by day, accompanied by back pain, which made her unable to walk, and sometimes unable to control her bladder and bowel movements. For further treatment, her sister found a wheelchair and persuaded her to receive treatments overseas, first flew to Jakarta and then arrived at Guangzhou where she was taken off the plane by the airport service personnel, and then directly taken by the ambulance to Guangzhou Fuda Cancer Hospital (Fuda).
After admission, her basic examinations showed that her left breast was swollen and stiff with a large mass inside, measuring 6 cm in size. The lower extremity had a myodynamia of 2 degrees so that she couldn't walk alone. The following X-ray films and CT scan indicated that multiple bone metastases in the thoracolumbar spine with obvious T6 destruction, compression fracture, and oppression on spinal cord caused by bone protrusion into spinal canal. The biopsy report of the left breast mass indicated invasive ductal adenocarcinoma. The left axillary lymph nodes were swollen.
The expert team performed a cryosurgery on her left breast tumor and axillary lymph nodes. Two months later, her lower extremity had miraculously improved and she was able to walk gradually. Then she was given brachytherapy on thoracic metastases and vascular intervention, after which she was discharged. 12 months later, she returned to our hospital for review, which showed that left breast tumor was significantly reduced. 35 months later, her general condition was good. PET-CT scan showed no tumor residual or recurrence in her breast and axilla; multiple bone destruction still existed, but the metabolic activity is not increased, suggesting that tumor activity was inhibited.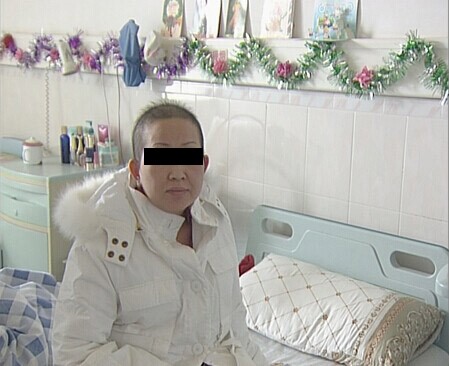 MsDivniahnina takes a photo upon admission.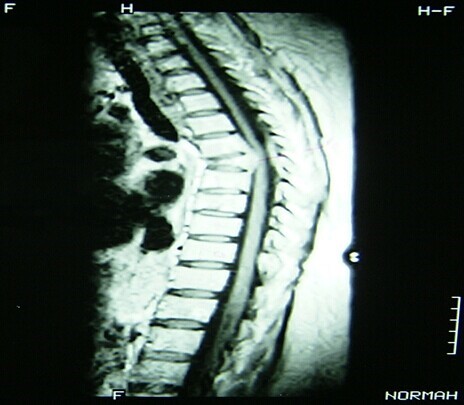 Before treatment, MRI scan indicated multiple spinal bone metastases and one destructed thoracic vertebra.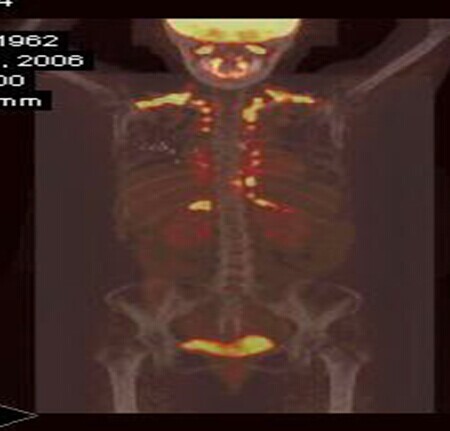 35 months after cryosurgery, PET-CT scan showed no breast tumor residual or recurrence; multiple bone destruction in thoracolumbar vertebrae without enhanced metabolic activity.
What we have learned from successful treatments for Ms Divniahnina
This is a special case which achieves special results. She only had cryosurgery for breast tumor, and then her cancer as well as spinal metastasis was under control, which improved the paralysis. She was lifted when she was admitted to our hospital but she was able to walk on to the plane after discharge.
In terms of Ms. Lin's recovery, comprehensive treatment worked and most importantly, cryoimmunity seemed to be the key. After cryosurgery, the cancer cells are ablated with ruptured membrane and releases tumor antigens. These antigens stimulate immune cells (especially lymphocytes) to enhance their anti-cancer ability, thereby killing cancer cells. Although the metastatic spinal carcinoma was not frozen, it was also destroyed by the immune cells that had been provoked by cryosurgery on breast tumor.
In 1995, an expert in Japan reported 8 patients with stage IV breast cancer, who underwent cryosurgery, and 2 of them had distant metastases, including regional lymph node metastases, contralateral metastasis and pleural effusion, which all disappeared. Not only breast cancer, but also other tumors treated after cryosurgery had similar situation. After cryosurgery on prostate cancer, the dissipating of bone and lymph node metastatic lesions could be observed; after cryosurgery on metastatic lung cancer, metastasis can be inhibited. In 2001, Japanese scholars reported 10 cases of melanoma. After cryosurgery, 4 patients (stage I to IV) among 10 survived for a long time without recurrence and metastasis. 2 of them survived for more than 20 years. One patient, 76 years old, female, who suffered from stage III melanoma in the upper axillary had cryosurgery on most of the tumor. One year later, black patches remaining in the upper jaw and the oropharynx disappeared spontaneously. 13 months later, bilateral neck dissection of 20 lymph nodes, most of which were black, was given to the patient and no metastasis was seen. Luckily, the patient survived without recurrence in the following 2 years. Another 71-year-old patient, male, had stage III melanoma below the left foot, of which the main tumor measuring 20mm*10mm with infiltration range of 45mm*30mm, accompanied with multiple satellite lesions. After cryosurgery on the main lesion, the satellite foci disappeared one after another. The patient survived for 8 years and his left lower limb could be preserved.