In December 19, 2009, Xu Kecheng, president of Fuda Cancer Hospital met a 28-year-old lady who had lost hope in life because of a rare disease. The lady is called Peng Ximei, coming from a village in Huazhou in western Guangdong province.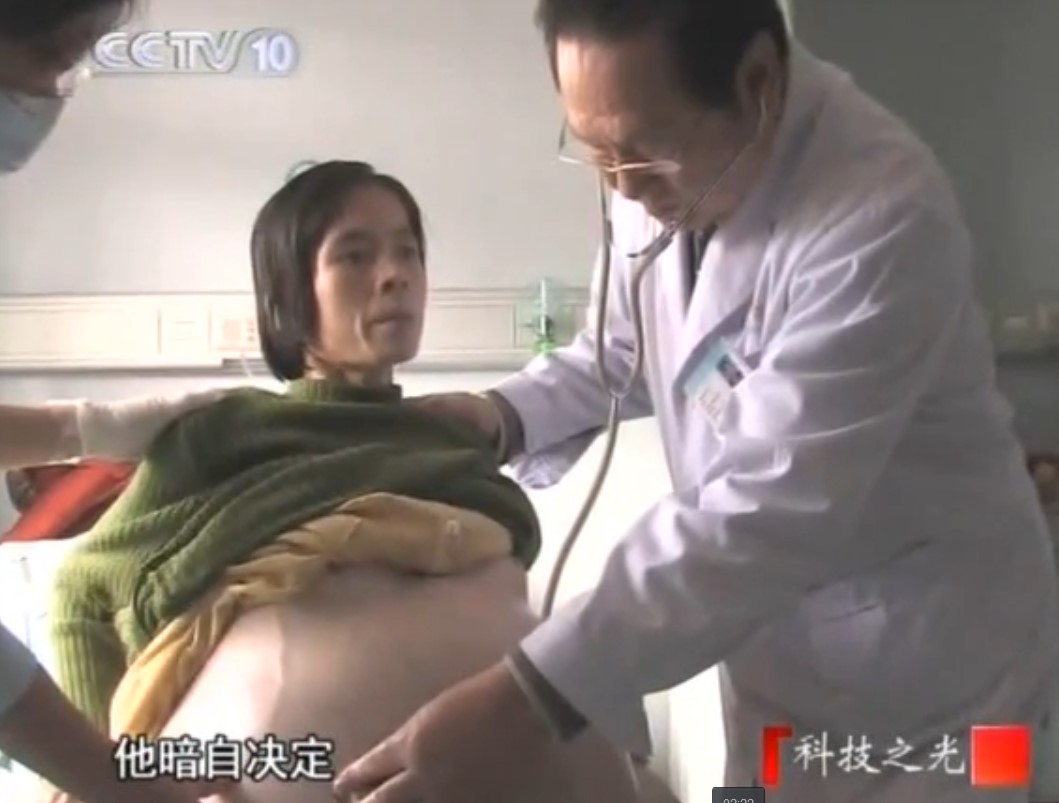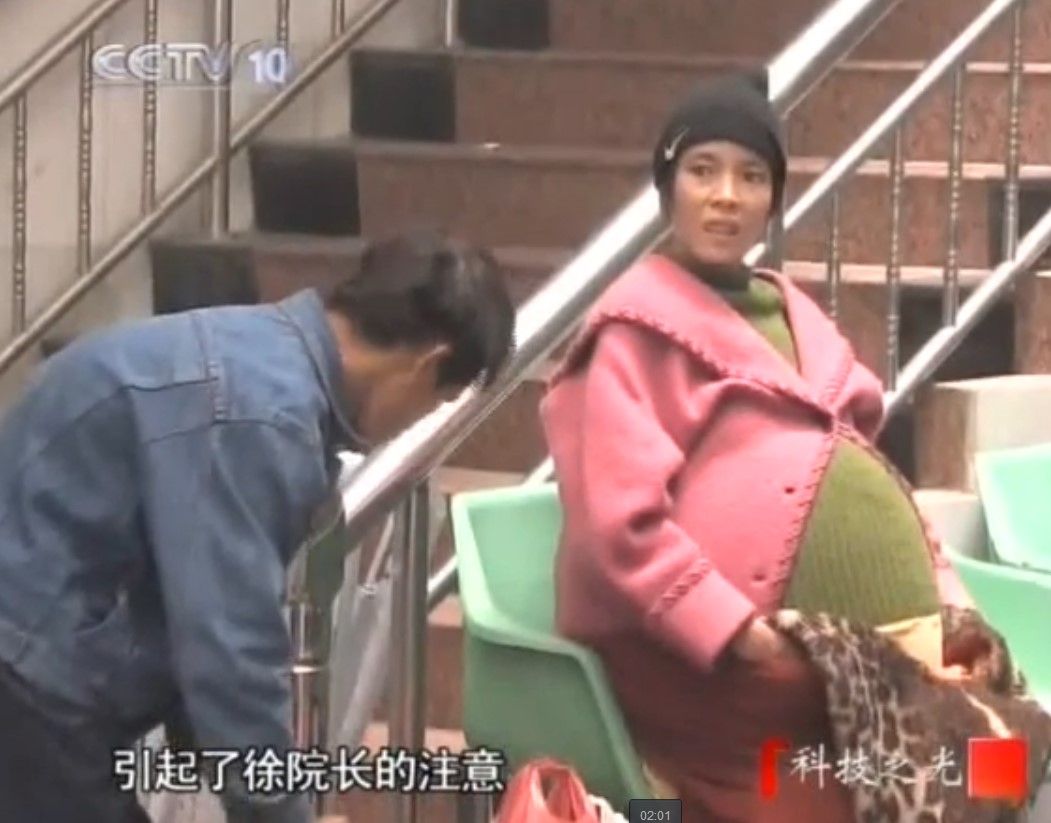 During conversation, president Xu knew that she was driven desperate by her disease. He told Ximei calmly, "I'm a doctor from Guangzhou, who is good at cancer treatment. Would you like to come to my hospital?"
  On December 22, Ximei was admitted to Fuda and weighed 110kg upon admission. Her abdominal perimeter was 157cm. After admission, head nurse and several nurses helped her to take a shower and change hospital clothes.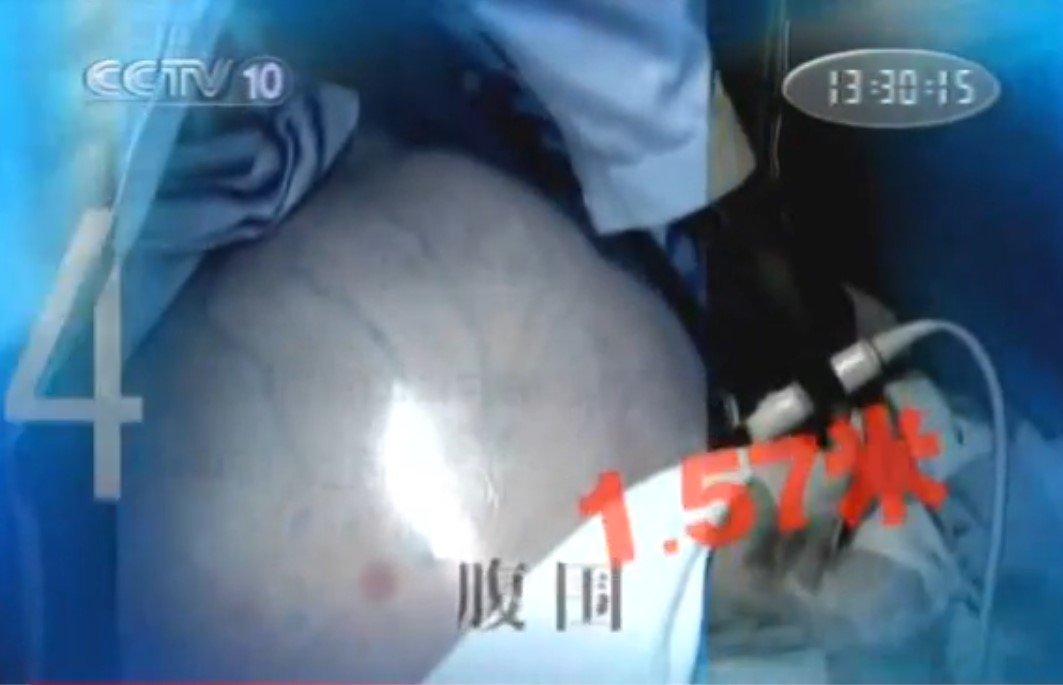 On December 23, patient developed shortness of breath, heartbeat 140bpm and respiratory failure so she was urgently shifted to ICU at night. Then several experts immediately gathered together to save her and they found that she had respiratory acidosis and metabolic alkalosis. They thought high pressure in abdominal cavity compressed lung and heart, making it hard for her to breathe. The only way was to drain abdominal effusion out to release pressure and increase vital capacity.
  Then a drainage tube was inserted into her right lower abdomen and then 500ml yellowish fluid was drained out rapidly in 5 minutes. The first drainage of fluid totaled 2000ml. At the same time, a large amount of albumin was given to Ximei through infusion. During treatment, doctors kept monitoring vital signs of patient. Then 300ml fluid was controllably drained out every hour at that night.
  On December 25, patient's blood gas index was improved and 5000ml fluid was taken out. In the morning of Dec. 26, patient received a CT scan which indicated a pelvic tumor. Then 5000-7000ml fluid was taken out every day.
  Time went fast and it was the first day of year 2010. On this day, her abdominal perimeter shortened to 110cm and her weight decreased to 60kg. Finally she could taste delicious cake and fruit.
  At 8 o'clock on the morning of January 12, 2010, Ximei was sent to the operating room on time. Fuda invited gynaecology, general surgery, urology, interventional, anesthesiology, cardiovascular and respiratory specialists from other hospitals to work together, trying not to make mistakes.
  At 8:20, tracheal intubation and anesthesia were done; at 8:40, abdominal wall was cut open and intestines were separated; 15 minutes later, the tumor was exposed: it was like a watermelon with small cauliflower-like tumors on uneven surface and exudate was coming out from surface. The root of tumor was located in left ovary, involving small intestines and uterus, and wrapping left ureter. In addition, a small tumor was growing in right ovary.
  Gynecologist first removed ovaries; urologist dealt with the ureter; general surgeon removed the affected intestines. Finally, cryosurgical expert froze remaining small tumors one by one. The surgically removed tumors were sent to Guangzhou pathology centers for examination. The result showed ovarian adenocarcinoma.
  Now Ximei is working as a volunteer at Fuda. Every day, she talks with patients in the ward and encourages them to overcome diseases.