In September 2016, Prof. Xu Kecheng, honorary chief president, and Dr. Niu Lizhi, president of Fuda Cancer Hospital were invited to 7th Comprehensive Anti-cancer Treatment Forum in Indonesia where they also visited many patients who had received treatment at Fuda. They were happy that these patients recovered well after treatment.

  Surprisingly, Dr. Niu met a female patient who he treated 11 years ago. At that time, she was a teenager with a huge abdominal tumor but now she has grown up and her smile is like the sunshine that impresses everyone around her. She is SHELLY MAHARA and she has a nice Chinese name – Ma Yanli.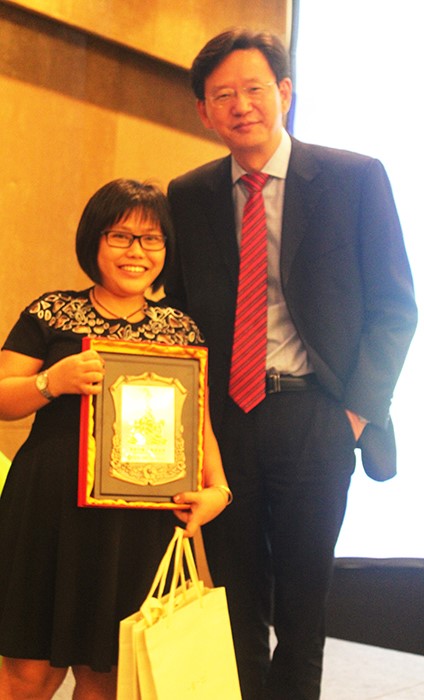 Dr. Niu and Ma Yanli in September 2016
  In 2015, Yanli had a growing abdomen so she went to a hospital for examination and then she was diagnosed with ovarian cancer. Because surgery was not available at a local hospital, she went to Penang in Malaysia for surgery. However, when doctors there cut open her abdomen, they found rich tumor vessels. If they removed the tumor, it would cause massive bleeding so they had to stop to close the abdomen. Then they recommended her to undergo chemotherapy instead. After chemotherapy, Yanli lost her hair without any improvement.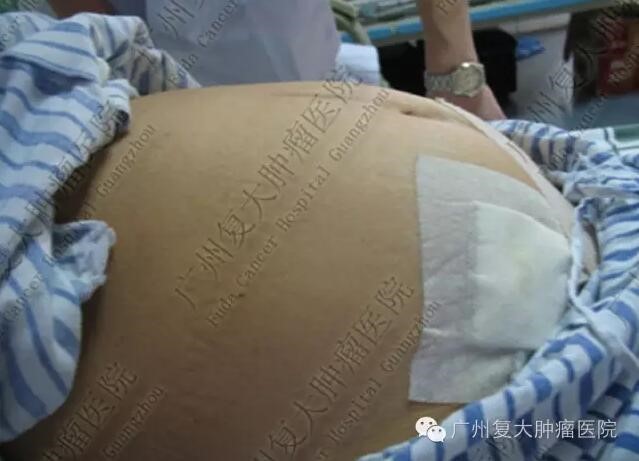 The huge tumor took up 60% of the whole pelvic cavity.
  Dr. Niu Lizhi recalled, "The girl's stomach was large when she was admitted to the hospital, like a pregnant woman with an eight-month-old fetus." Admission examination indicated a left ovarian tumor, 18*23 cm, occupying 60% of the entire pelvic cavity with adhesion to the intestine, bladder and uterus. It meant that she was in a serious condition. After consultation by several experts, Fuda decided to arrange two cycles of local chemotherapy through artery to shrink the tumor, and then operation. After chemotherapy, Dr. Niu Lizhi (President of Fuda), Professor Hu Yize and Director Liang Bing performed the operation together. First they froze the tumor with argon-helium system, separated it, and finally removed ("cold resection") it. In this way, excessive bleeding could be avoided. Shelly also received postoperative treatment such as 4 cycles of chemotherapy. Soon, she recovered and was discharged. Then she finished college and has been working now. Now she is healthy and happy.
  Dr. Niu thought her recovery owed to personalized treatment – Interventional chemotherapy was done first before the surgery to control the growth of tumor and then with the help of cryosurgery, surgical removal of the previously unresectable tumor became possible.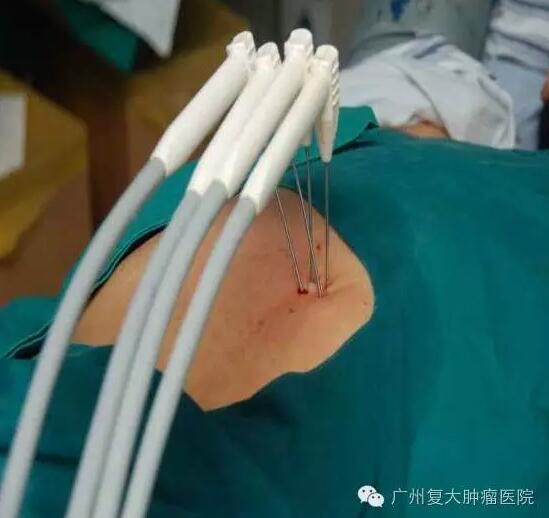 Dr. Niu explains that cryosurgery is a low-temperature treatment that freezes cells to death. Under the guidance of CT, cryosurgery can ablate tumor tissue and avoid harming normal organs. After the tumor is frozen and necrotic, there is little bleeding during surgery and it's safer for patients. In addition, the immune response stimulated by cryosurgery can completely destroy remaining cancer cells in the body, which is beneficial to the long-term recovery of patients.