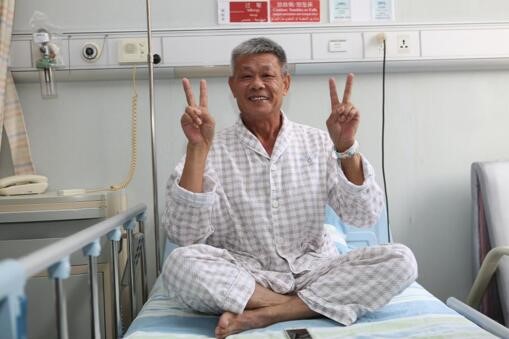 Mr. Guo
  In November 2017, Mr. Guo was diagnosed with nasopharyngeal carcinoma in a Guangzhou hospital. Until May 2018, he had right ear hearing loss, stuffy nose, and bloody sputum with general weakness, poor appetite and weight loss. Two months later, He went to another hospital for PET-CT examination. The results suggested multiple lymph node metastases. After examination, Mr. Guo was worried that his disease would become more serious if treatment was delayed.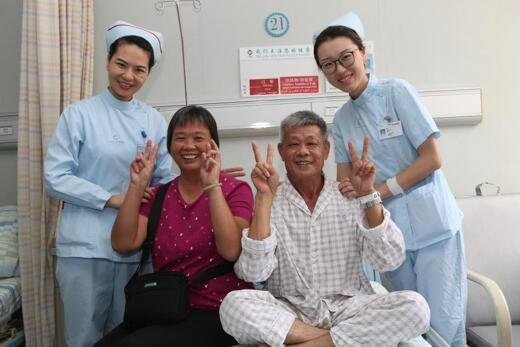 His condition was getting worse and worse, and he could not speak clearly. The worst case was that the nerve of his right arm was pressed by the tumor, so he couldn't lift his arm or work normally. Mr. Guo was upset and wanted to give up. His wife also cried a lot. Seeing this scene, his sons discussed how to persuade him to go to hospital for treatment again. One day, they happened to see news about Fuda Cancer Hospital (Fuda) on TV, which created great glories – it has treated thousands of cancer patients including a British royal family member, Prince Kadar, foreign politicians, wealthy businessmen, etc. Fuda has a unique "3C+P" treatment model, which has enabled many advanced cancer patients to live longer. After further understanding about Fuda, they believed that Fuda could help their father, so they persuaded Mr. Guo to receive treatment at Fuda.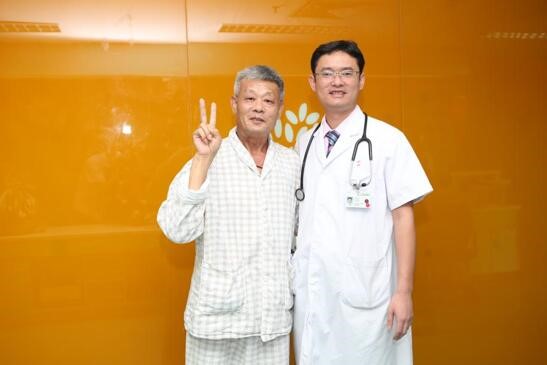 Mr. Guo and Dr. Xu Jiongyuan
  On September 10, 2018, Mr. Guo was admitted to Fuda. After Dr. Xu Jiongyuan carefully studying Mr. Guo's condition, Mr. Guo was suggested to have local interventional and intravenous chemotherapy because the tumor in right side of neck was large and nerves and aorta were rich there. Hearing this, Mr. Guo understood and agreed with the treatment plan.
  After the first chemotherapy, Mr. Guo did not have much hope but he unexpectedly found that the tumor in the neck gradually became smaller. Before coming to Fuda, he always felt something against his throat. He couldn't even swallow food or water. His mouth was drooling so he could speak clearly. Suffering from these symptoms, he could not take care of himself, and he could only fall asleep in sitting position at night, which was very painful. After treatment at Fuda, symptoms caused by cancer were gradually improved, and the tumor in the neck was smaller every day. On October 3, 2018, Mr. Guo returned to Fuda for the second chemotherapy. During this visit, he was happier than before because Mr. Guo now can eat well, sleep soundly and speak clearly and loudly, and his right hand has recovered.