Tongue cancer is one type of oral cancer which is one of the most common malignant head and neck tumors, featuring a high degree of malignancy and rapid progression. It affects swallowing and chewing function, pronunciation and self-image, and has a great impact on our daily life. Luckily, early diagnosis and treatment is the key to save tongue cancer patients. Squamous cell carcinoma of tongue is one of the most common and fatal types of cancer, and is more aggressive than other oral cancers. Recently, a patient with squamous cell carcinoma of tongue sent a gold banner to the interventional department of our hospital to thank our medical staff for precise treatment and considerate care.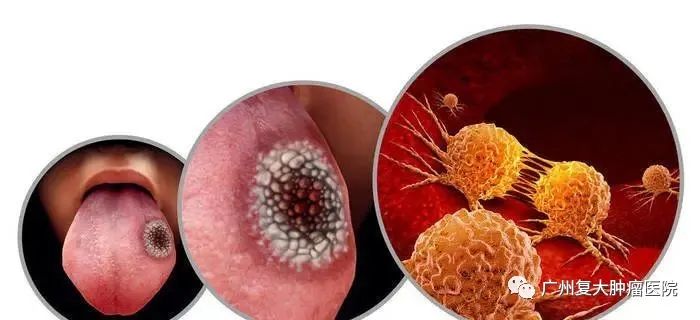 Oral ulcer turns into tongue cancer
Mr. Feng, 51, who travels a lot as a salesman, has found ulcer in his mouth since January last year. He thought it was just a small problem, so he went to a small clinic and bought medicine for ulcer relief. "The doctor at the clinic said the ulcer was just caused by a tooth rub so I didn't pay much attention to it." It was not until February this year that he had tongue pain, but he couldn't get proper treatment because of epidemic.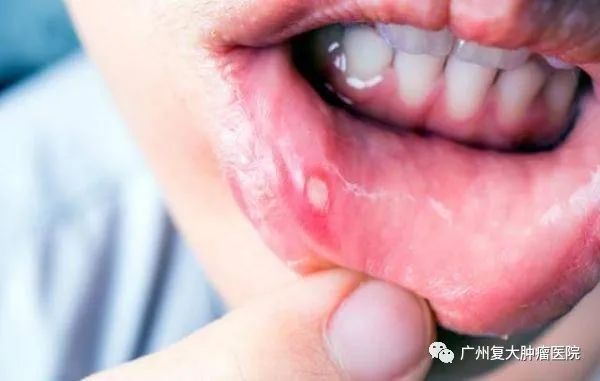 As his condition was getting worse, Mr. Feng had a biopsy in a Shanghai hospital in May 2020, which revealed squamous cell carcinoma of tongue. He was very confused about the result. Was it not the ulcer? How would it turn into tongue cancer? In fact, the most prominent feature of oral cancer is that ulcer cannot be cured for a long time in a fixed position. If the ulcer lasts for 2 weeks and does not get better, you have to consider whether it is related to cancer and go to hospital for examination as soon as possible.
When tongue cancer first appears, it looks like an ulcer and can be painful when it is stimulated by cold, hot, sour or spicy food. As the disease progresses, the ulcer becomes larger and harder, with a surface like crater. As the lump grows, the pain will become more pronounced, and the movement of the tongue will be affected so you won't be able to eat or speak clearly. In the middle and late stages, the submaxillary and cervical lymph nodes on the same side will become bigger.
A local doctor advised Mr. Feng to have an operation immediately, but he refused and chose Chinese herbal medication. "At that time, I believed in Traditional Chinese medicine. I thought why not try Chinese medicine first to control the tumor instead of surgery?" However, after taking Traditional Chinese medicine for three months, he underwent a CT examination at the end of August 2020, which showed a huge mass of tongue with cervical lymph node metastasis. The pain, inability to close his mouth, and the inconvenience of eating bothered him day by day so he had to try western medicine.
"At that time, I just let nature take its course." In order not to make his family worried, Mr. Feng actively searched for cancer hospitals. By chance, he read an online article of Xu Kecheng, honorary chief president of our hospital and learned about Guangzhou Fuda Cancer Hospital (Fuda) where cryosurgery could be done. To figure out if cryosurgery was suitable for him, he came to our hospital for treatment in September 2020.
After interventional therapy, the tumor is smaller
After admission, Mr. Feng did relevant examinations, and the results showed that his tongue was fixed in his mouth with a foul smell, and the enlarged lymph nodes could be felt in his left side of neck, which were about 6cm×7cm in size, hard in quality and poor in mobility. After knowing his details, Dr. Xu Kecheng advised him to do interventional therapy.
Although he came for cryosurgery, he followed doctor's advice to do four interventional chemotherapies and one interventional embolization which were done by Dr. Yang Qingfeng and Dr. Zhong Xiaojun. "The most immediate sensation after the first interventional chemotherapy is that the lymph nodes in the neck have become soft."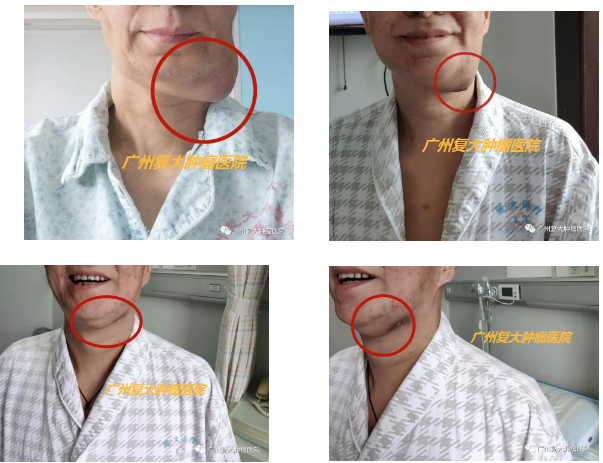 Changes after interventional therapy
After treatment, Mr. Feng's condition has been improved. Then he discussed about radiation therapy with his in-charge doctor. In this case, Professor Zeng Zongyuan, chief expert of the head and neck Treatment center of our hospital, suggested one more interventional therapy to further shrink the tumor and reduce the bleeding probability during the surgery in the future. "I think Professor Zeng makes a good point, and I think Fuda did a good job in providing proper treatment that patients need."
After proper treatment, Mr. Feng was able to speak more easily than before. The enlarged lymph nodes in the left neck gradually decreased from 6cm×7cm to 1cm×2cm. All these good signs made him very happy. "Others cannot tell if I'm a cancer patient or not when they first saw me."
Gratitude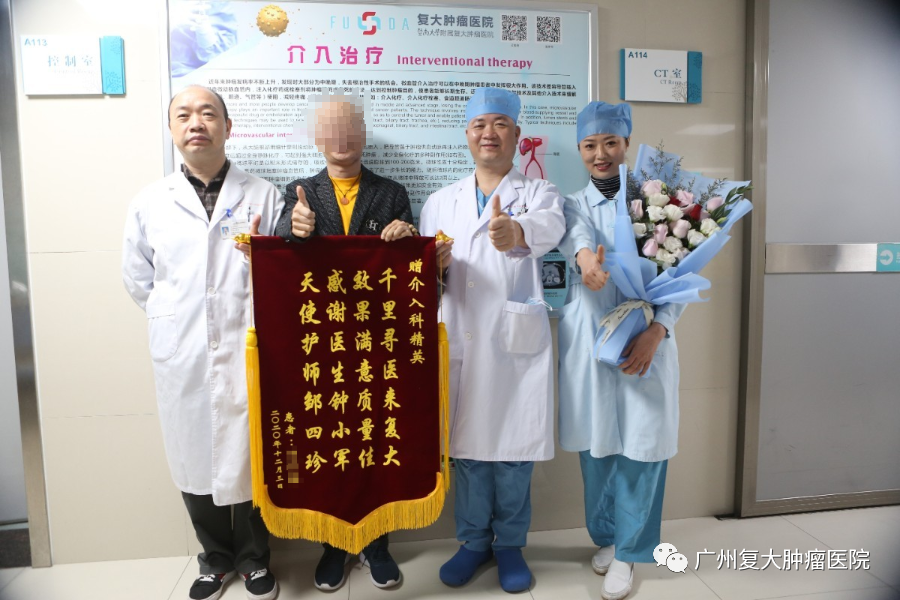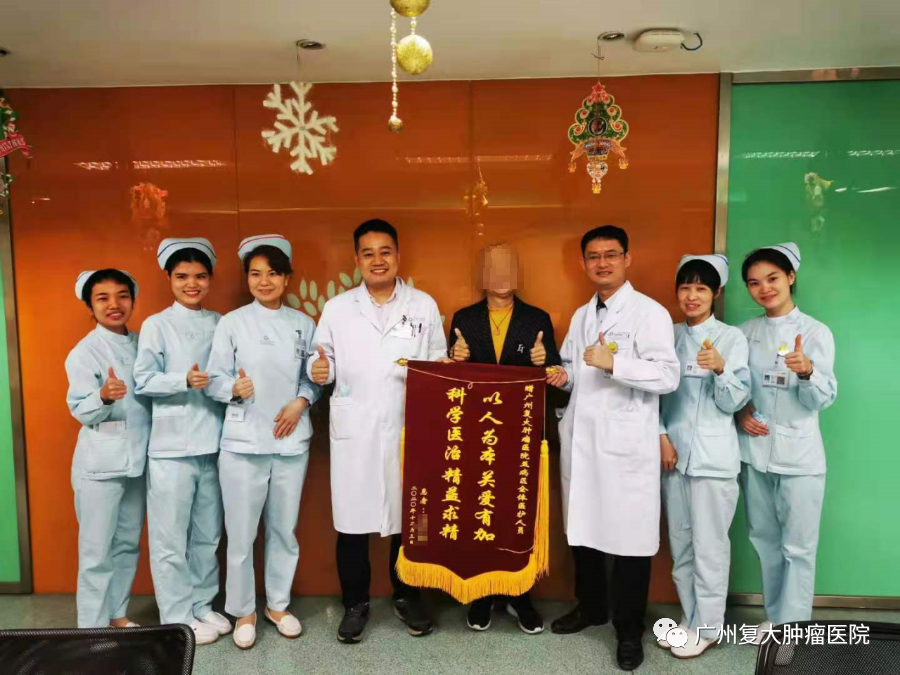 Upon his leaving, Mr. Feng presented a banner to our medical staff to express his gratitude. "I was impressed by the people-oriented concept of Fuda." For example, Dr. Zhong Xiaojun always informed Mr. Feng in advance during interventional therapy and asked how he felt about the treatment. Doctors and nurses here showed their kindness and care to him. In Mr. Feng's mind, Fuda can provide better treatment for patients to live a better life, and he hopes that his example can give other patients hope.