In the afternoon of October 4, 2018, there was a burst of laughter in a ward of Fuda Cancer Hospital affiliated to Jinan University (Fuda) and you could hear people speaking English, Hindi and Chinese. In the ward, RAM SWARUP KAPOOR (abbreviated as RAM) was talking to our medical staffs, accompanied by his wife and daughter. He is an Indian colonel coming from New Delhi, India. Now, he smiles happily and doesn't look like a sick man in his 70s. In fact, there is an inspirational story behind his warm smile.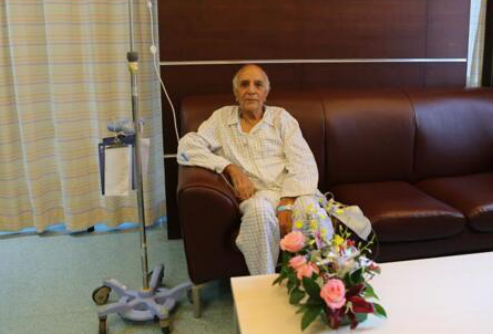 RAM, an Indian colonel
First depression and then pleasant surprises
At the end of 2017, RAM felt abdominal discomfort so he went to a local hospital for treatment. Diagnosed with gastritis, he was given some medicine. After taking the medicine, he did not feel better. Then he and his family started to seek other medical advice. In April 2018, he got fever so he underwent an ultrasound, CT and MRI scan at a local general hospital, after which he was diagnosed with cirrhosis. Then after he received a series of symptomatic treatments, he didn't get well, but on the contrary, he developed more symptoms such as decreased appetite and general weakness. After reviewing CT in August, he was diagnosed with liver cancer. Doctors there suggested that he do liver transplantation and chemotherapy, but he thought that he was already 71 years old, and too old to bear such a major surgery so he gave up liver transplantation. At that time, he was completely depressed and he was afraid that his life would come to an end soon. However, his family never gave up and kept consulting doctors. Later, one of their acquaintances worked in a Chinese cancer hospital and told them that Fuda had gained rich experience in irreversible electroporation (nano-knife ablation). And he believed that a cancer hospital was more professional than a general hospital, so he finally chose Fuda for nano-knife ablation.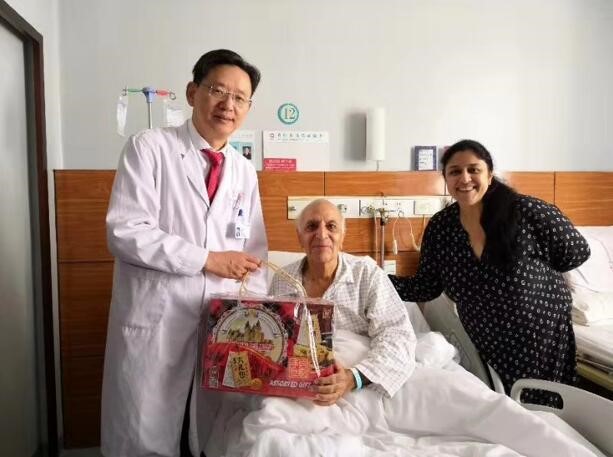 Dr. Niu Lizhi (left) and RAM (middle)
It is reported that Associate Professor Niu Lizhi is a famous expert in oncology surgery in China, vice president of International Society of Cryosurgery (ISC), vice president of Asian Society of Cryosurgery, and master tutor of Jinan University. Graduated from the Fourth Military Medical University with a Ph.D., he is good at tumor surgery and minimally invasive cryosurgery and has made great achievement in minimally invasive treatment of solid tumors such as pancreatic cancer, liver cancer, lung cancer, kidney cancer, thyroid cancer and abdominal tumor. Dr. Niu Lizhi and his team have completed nearly 10,000 cases including the most complicated minimally invasive cryosurgery. As the Chief Specialist for minimally invasive cryosurgery centre, Dr. Niu Lizhi, together with his team has provided cryosurgery training and guidance to more than doctors from Malaysia, Indonesia, the Philippines, Korea, China's Taiwan and the Southern Medical University, Xiangya Medical University and other hospital s in China. They carry out cryotherapy. He has implemented more than 300 cases of nano-knife surgery, and has completed the most cases in mainland China. The Nanfang Daily reported Dr. Niu Lizhi was a skilful master of two knives when treating tumors, one was "argon-helium knife" and another one was "nano knife".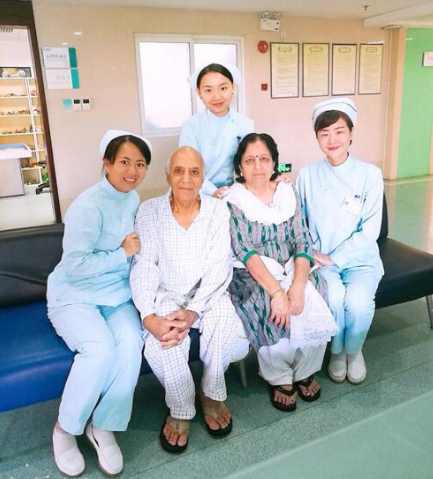 On September 22, RAM immediately applied for a visa and then booked a flight from India to Guangzhou. However, typhoon "Mangosteen" attacked China at that time so the flight had been delayed for 5 hours, which made RAM very anxious, but to his surprise, Fuda staff had been patiently waiting for them for 5 hours at Guangzhou Baiyun Airport. When he arrived at Fuda, it was 1:00 am. In his memory, our hospital was very quiet at that time. He saw two nurses and one doctor working here but they took good care of him, which made him feel warm even in a foreign country. His family told us that he had been in poor mental state and appetite since he had cancer. After a series of examinations, he was diagnosed with liver cancer with portal vein tumor thrombosis by the medical team led by Dr. Niu Lizhi who immediately discussed and made a treatment plan for him. On the third day of his hospitalization, our doctors had already made an appropriate plan for him and tried their best to treat him as soon as possible, which made him satisfied.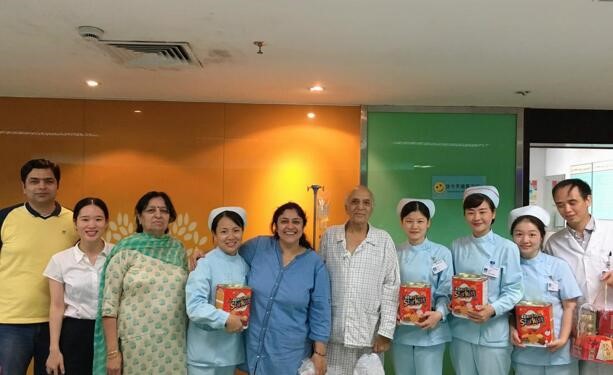 Regain confidence in Fuda

On the 14th day after surgery, RAM recovered well and regained his strength and good appetite, and he was happy about these changes. To express his gratitude, he sent gifts to our medical staffs who shared these gifts to other patients. He recalled that doctors, nurses and other staff here provided good service in a good attitude, and they worked efficiently. Smiling brightly, he said that they were all "wonderful people", and especially his attending doctor, Wang Feng treated him friendly and Dr. Niu Lizhi gave him confidence with his professionalism and charm. "Every time I see him (Dr. Niu) standing by my side, I feel much better than before," he added.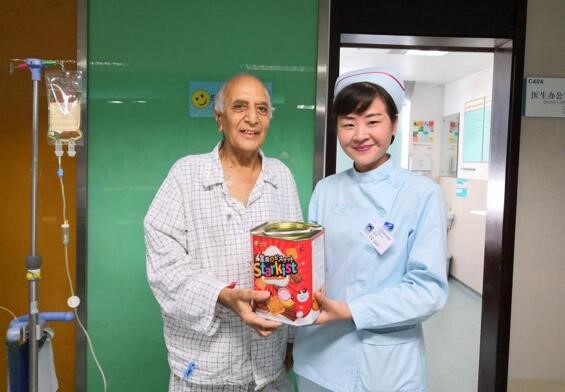 RAM and Ji Hui (Head Nurse)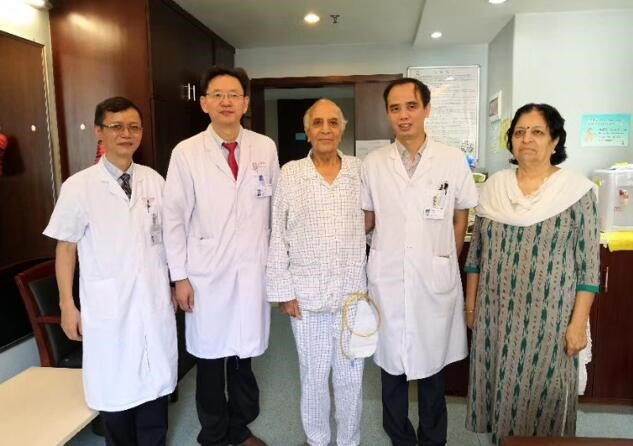 Impressive things
There were a lot of things that impressed RAM during hospitalization. Among them, he emphasized three things. First, once he wanted to cut the curled tape on his body with his own scissors but our nurse told him that using special scissors of our hospital was safer and it could reduce the chance of infection, and then she did it for him. Therefore, in his eyes, nurses here were very careful. Second, when he felt pain, nurses here visited him every few minutes to give him massage and chatted with him to relieve his pain. After half an hour, thanks to nurses' help, he felt his pain relieved. Last but not the least, one day when something was wrong with the air conditioner of his room late at night, he told the nurse but he didn't expect someone to come to repair immediately. Later, to his surprise, a repairman came after half an hour and fixed the problem, which showed high efficiency of staff here. All in all, all these trivial things helped him to overcome the cancer in Fuda.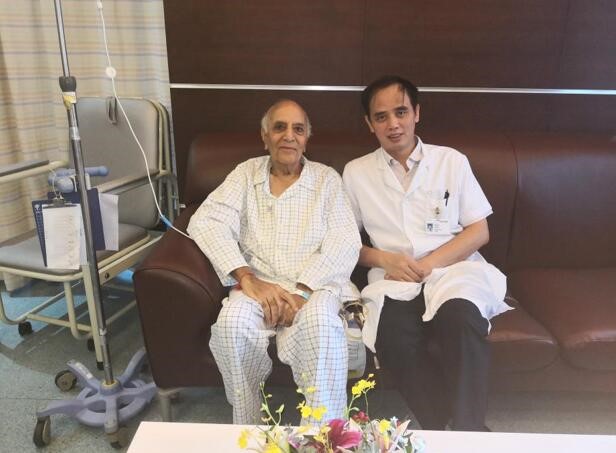 RAM and Dr. Wang Feng
What RAM thinks of Fuda
RAM is grateful to our medical staff and lucky to be here because he deeply feels the warmth here, and thinks highly of Fuda. After treatments here, he said with confidence, "I feel that I can live for at least ten more years, and I'm full of hope for my life now. Even if I travel far from India, this trip is worthwhile. I sincerely hope that more patients will know about Fuda and get effective treatments here as soon as possible. Hope they can build up confidence in fighting against diseases and get rid of suffering in Fuda one day".
Thanks to every hard-working medical staff in Fuda, many touching stories took place in the hospital, which will never end and will continue in the future.
Fuda has provided health consultation service. If you have any questions about cancer treatment and prevention, please feel free to contact us.
Hotline: 0086-20-38993956